Davis County Elementary Spooktacular Tips & Treats Family Night Information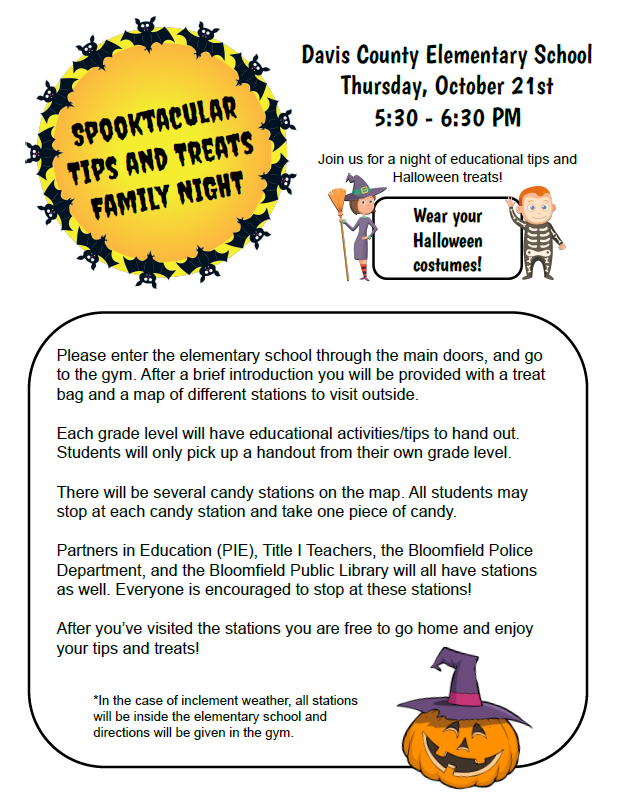 **DC Elementary Families** Don't forget that school pictures are tomorrow for Pre-K, Kindergarten, and 1st grade students and Wednesday for 2nd, 3rd, and 4th grade students. Online students may come in from 8:00-8:30 AM on the same day their grade is scheduled. Picture packets were sent home last week. Pictures may also be pre-ordered at bcschoolpictures.com.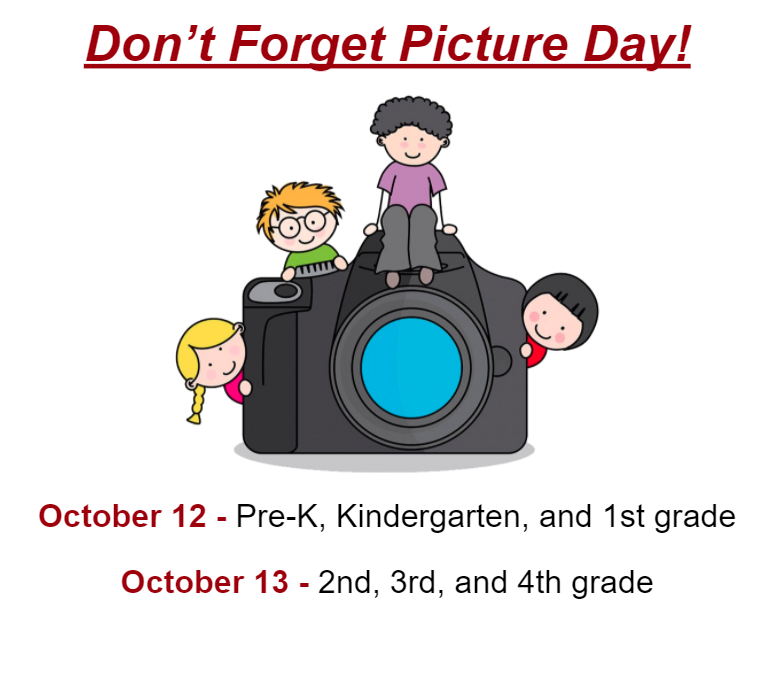 SAVE THE DATE Davis County Elementary PK-4th grade families plan to join us for some fun tips and treats! When: Thursday, October 21st 5:30-6:30 PM Where: Davis County Elementary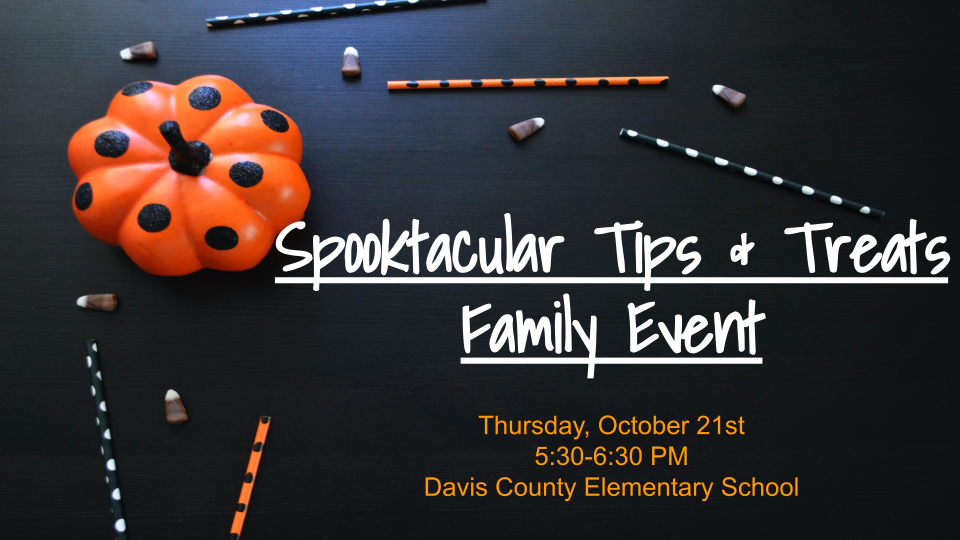 DC Elementary Families! School pictures are right around the corner. Below are the dates for your elementary aged students. Tuesday, October 12th - Pre-K, Kindergarten and 1st Grade Photos Wednesday, October 13th - 2nd, 3rd and 4th Grade Photos If you need more than 1 picture packet for your child please call the elementary office 641-664-2200 ext. 1135.
PRESCHOOL FAMILIES! Don't forget to join us for our Open House on Thursday, September 16th from 6-7 PM. Stop by and see what fun things the preschoolers have been working on!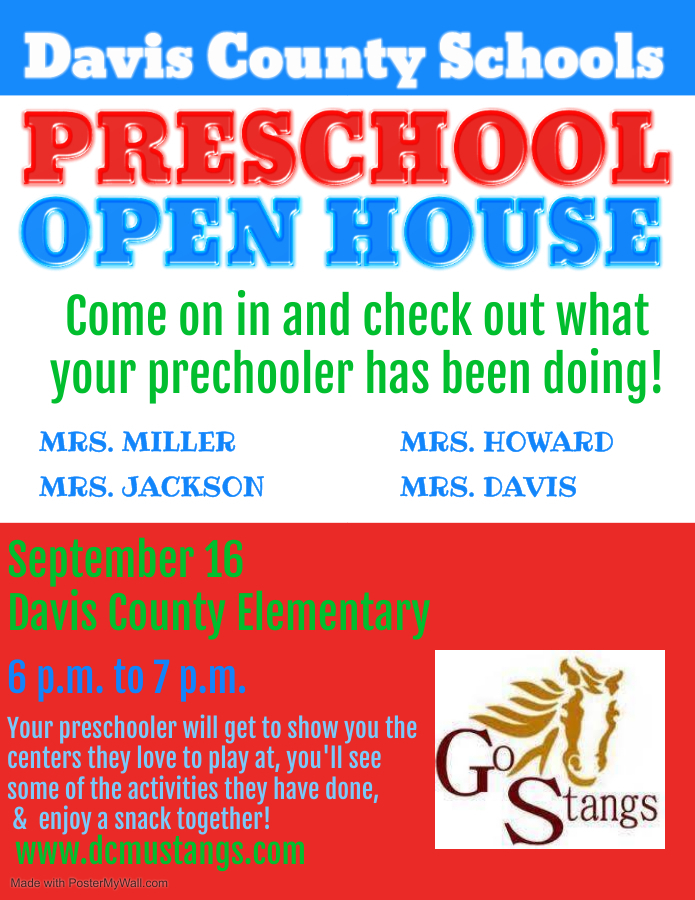 ELEMENTARY PARENTS!!! Please don't forget to fill out and send back the Homecoming Parade Permission slip for the parade this Friday, September 17th. If we do not have this slip your child(ren) will not be able to ride in the parade with their specific activities group. Please know that Whirlybirds does not have a float this year. Thank you for your help!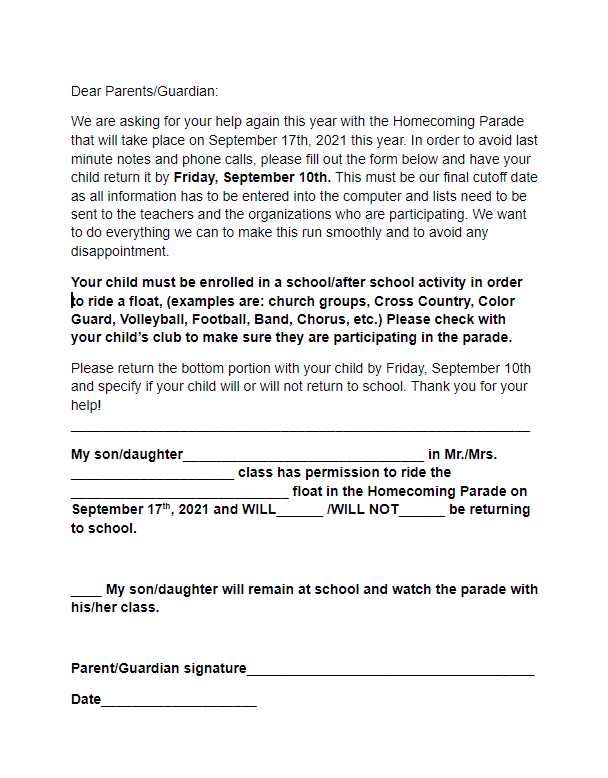 Make sure to check out the coloring contest at the Pulaski Corn Show this weekend! Third and fifth graders participated in this event in Mrs. Byrd's art class. All students' coloring sheets will be displayed starting today in the Art Hall in the Pulaski park. Judging will take place tomorrow morning with cash prizes given. Each student chose from coloring sheets that honored job professions such as: Fire Fighter, Farmer, Teacher, Nurse, and Law Enforcement. Students have done a great job and are excited to share their work!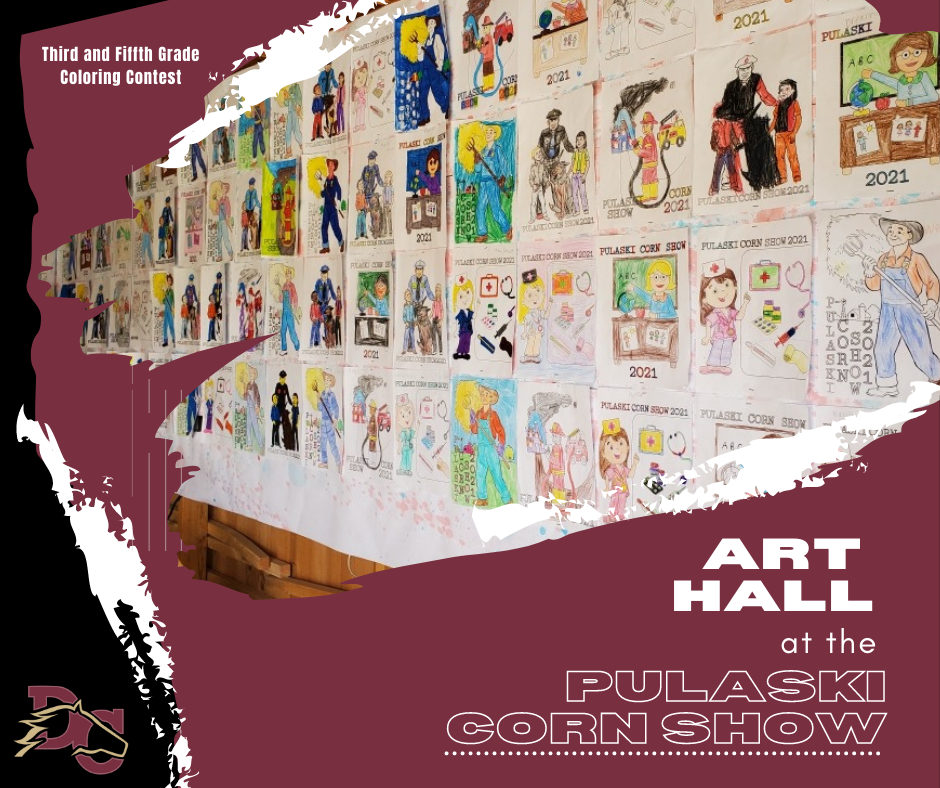 Dear Davis County, Under new IDPH guidance, Davis County CSD will no longer be sending notifications to possible contacts of a COVID-19 case at school. Just as with all illnesses there is risk of possible exposure any day we are around others. We encourage families and staff to keep this in mind and understand the importance of staying home if you have any symptoms of illness. Sincerely, Dan Maeder, Superintendent
https://5il.co/ymxh
ELEMENTARY PARENTS: Below is the Pick up and Drop off locations for Elementary students for the 21-22 school year. If you have any questions, please contact the elementary office at 641-664-2200 ext. 1135 If you have not filled out the Transportation Information Form yet please do so as soon as possible. This form is different than the information on PowerSchool registration. This information lets us know your child's after school plans for regular/early dismissal, who is authorized to pick your child up, and absentee parent information. Please click on the link to fill this form out-
https://docs.google.com/forms/d/1RbLOD1-7fZ3NnKNiSGgHmNeMwJJvS76SwhkkLRmKP1Y/viewform?edit_requested=true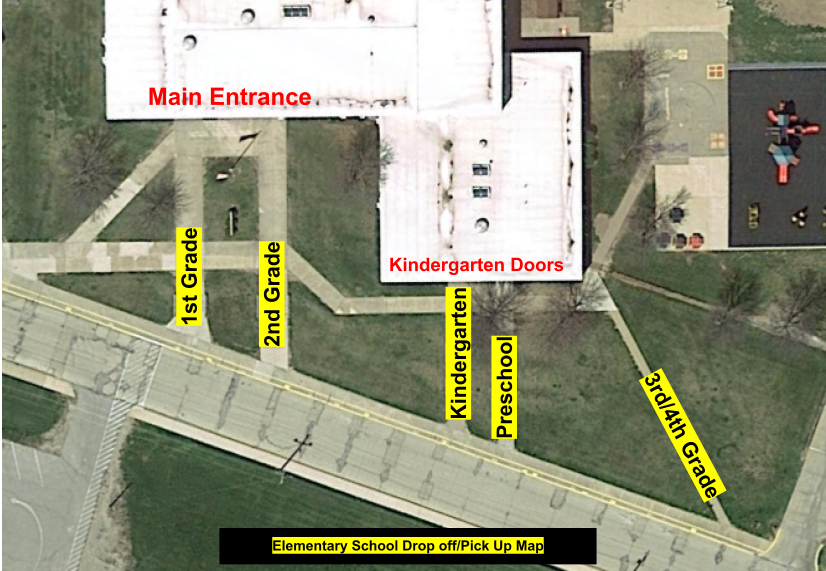 Great news families! Davis County Schools is able to continue to provide breakfast and lunch free of charge to any child 18 & under. Online students and children (18 & under), please use this link to sign up for delivery! (Students who eat at school do not need to sign up.)
https://forms.gle/qeZ1c7HU81NfTKzZ6
Dear Kindergarten Families, We are very excited to get the 2021-22 school year started! We have a short kindergarten visit planned on August 24, 2021. Please call the office (664-2200) to schedule your visit with your child's teacher at your earliest convenience. The visit is to meet the teacher, tour the classroom, put school supplies away and share important information with parents. Half of kindergarten students will attend Wednesday 8/25/21 and half will attend Thursday 8/26/21. ALL kindergarten students will attend Friday 8/27/21.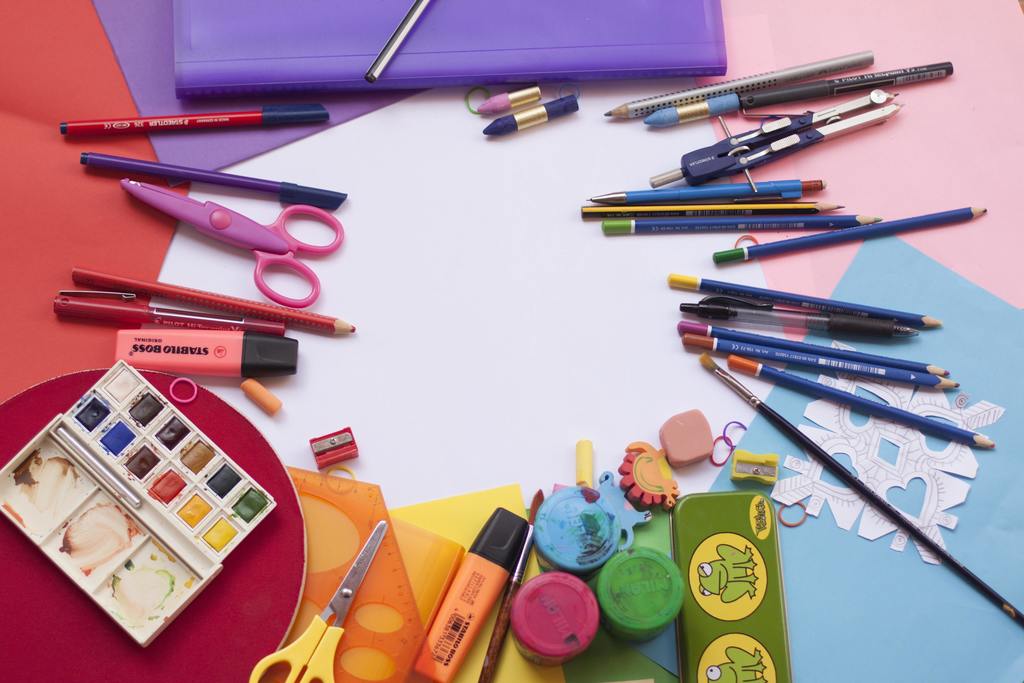 SAVE THE DATE Students/families in 1st-4th grade can Pop by for Popsicles from 5:30-6:30 and meet your new teacher. Location: Davis County Elementary Front Lawn We can't wait to see you there!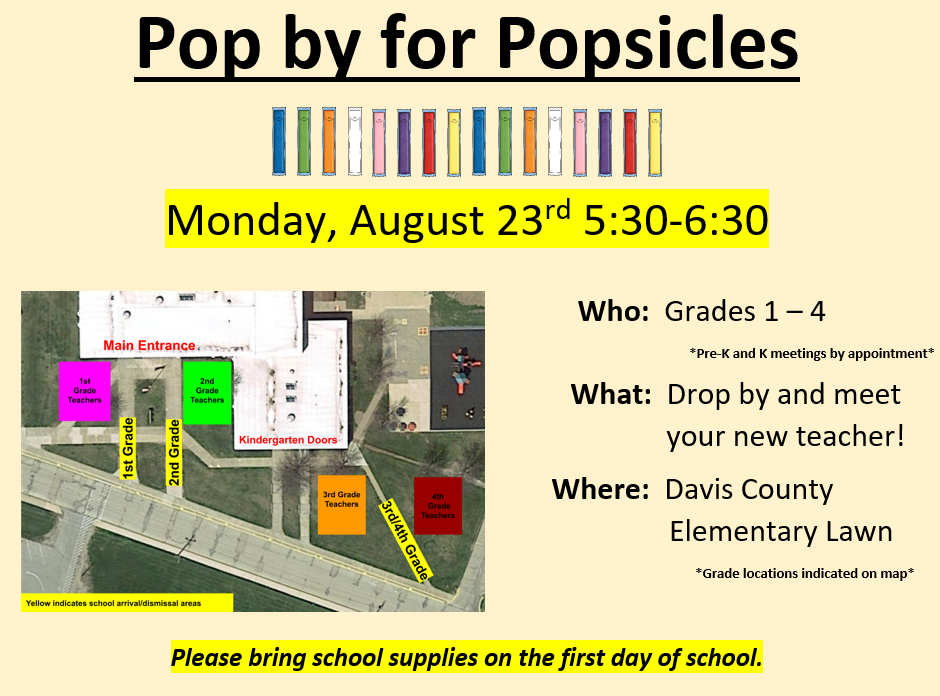 PRESCHOOL REMINDER for Monday, Aug 2nd We are looking forward to meeting your family and working with your preschooler for the 2021-22 school year! We plan to meet parents on Monday, August 2nd at the elementary at 6:00 PM. Thank you for your support and excitement for our preschool program! View original letter at this URL:
https://5il.co/w0h9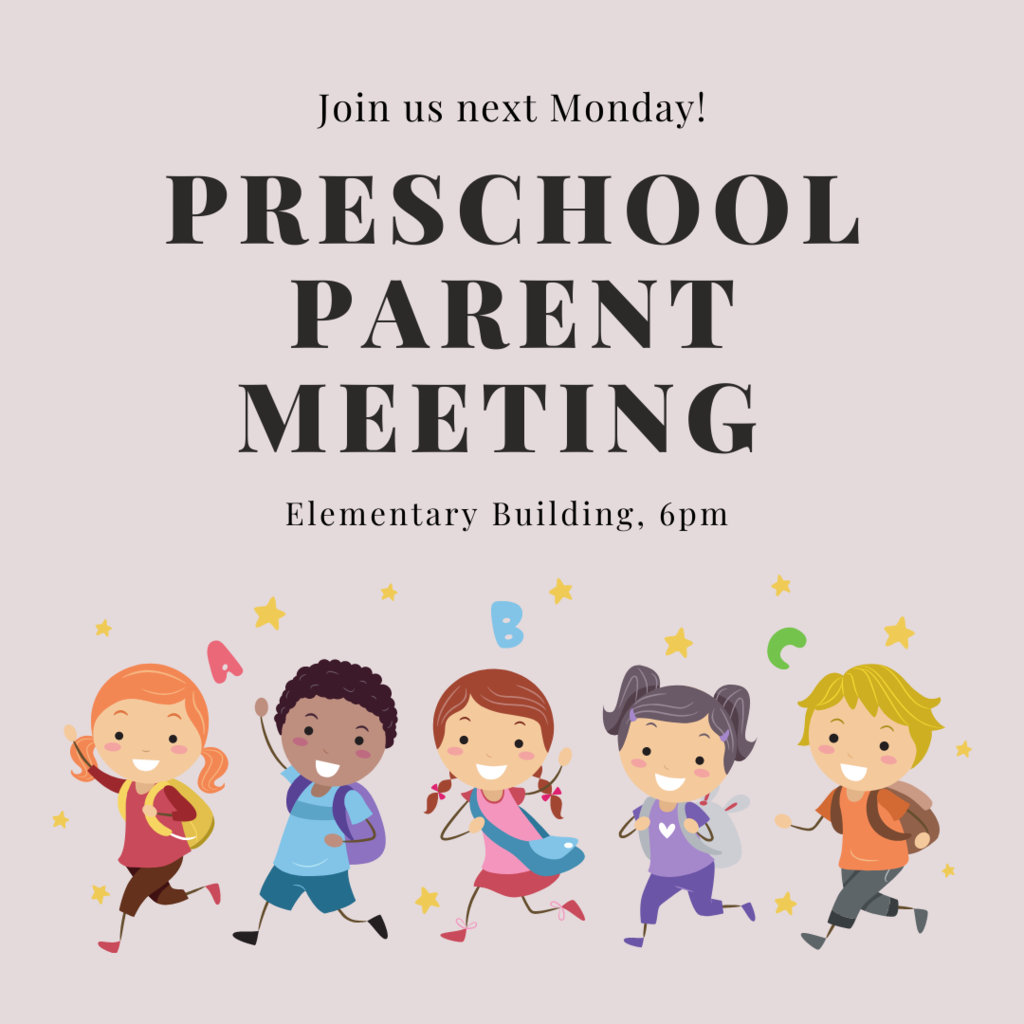 💢Are you a Davis County resident? We need your feedback! Davis County Hospital & Clinics and Davis County Public Health are working together to complete the 2022 Community Health Needs Assessment (CHNA) for Davis County. If you would like to participate in the survey, please go to
https://forms.office.com/r/G0f224hncV
. You may also fill out the survey in paper form by contacting Davis County Hospital & Clinics at 641-664-7093. All surveys must be received by August 6th, 2021. Completing a Community Health Needs Assessment (CHNA) is a federal requirement for non-profit hospitals and must be completed at least every three years with input from the broader community, including public health. Data from this CHNA survey will help health care providers and community organizations improve the overall health and wellness of our community, and identify community needs, establish priorities for programs and services, and inform strategies to address gaps between critical needs and services. All Davis County, Iowa residents and business leaders are encouraged to participate. Included in the 2022 CHNA surveys are questions dealing with community health regarding service delivery, fitness, nutrition, and access to care. All survey responses are anonymous and completing the survey takes less than 10 minutes. 2022 Davis County Community Health Needs Assessment - Davis County Hospital & Clinics (dchc.org) -
https://www.dchc.org/2021/07/07/2022-davis-county-community-health-needs-assessment/

We (Davis County Schools, Wigwam Daycare and Preschool, Davis County Daycare, and Head Start) have initiated the Early Childhood Coalition to promote high-quality preschool opportunities for the young children in Davis County. Attending preschool is a great first-step in a child's education. All children in our community are better prepared for Kindergarten after attending a high-quality preschool program. The Coalition is working together to be sure we give all 3-yr preschool-age children the opportunity for a high-quality care preschool program. Please remember your child must be 3 by Sept 15,2021 for this program. Please contact us so that we may get you the forms needed to start your child's registration for preschool by June 23rd. You may return your form to Wigwam Daycare in-person or by mailing to their address: 200 E locust Bloomfield, IA 52537. Contact Traci Weigand with questions. Joni Helton is also available in her absence.  Contact information:  Traci Weigand - P: 641-208-6714 or E:
wieganddaycare@yahoo.com
 Joni Helton - P: 641-208-5779 or E:
jonie.helton@dcmustangs.com
Mark your calendars! IHCC's G.E.M.S. (Girls Exploring Math & Science) Camp is coming up with two sessions, the first: July 15-16, 2021 and the second: July 22-23, 2021! The G.E.M.S. Camp is open to female students finishing the 3rd, 4th, or 5th grades. Girls meet with professional women working in the science, technology, engineering, and math fields, as well as create, explore, and discover through S.T.E.M. (Science Technology Engineering Math) projects! Location: Advanced Technology Center, IHCC, Main Campus (Ottumwa) Register your Camper on IHCC's website at:
https://www.indianhills.edu/news/events/gems.php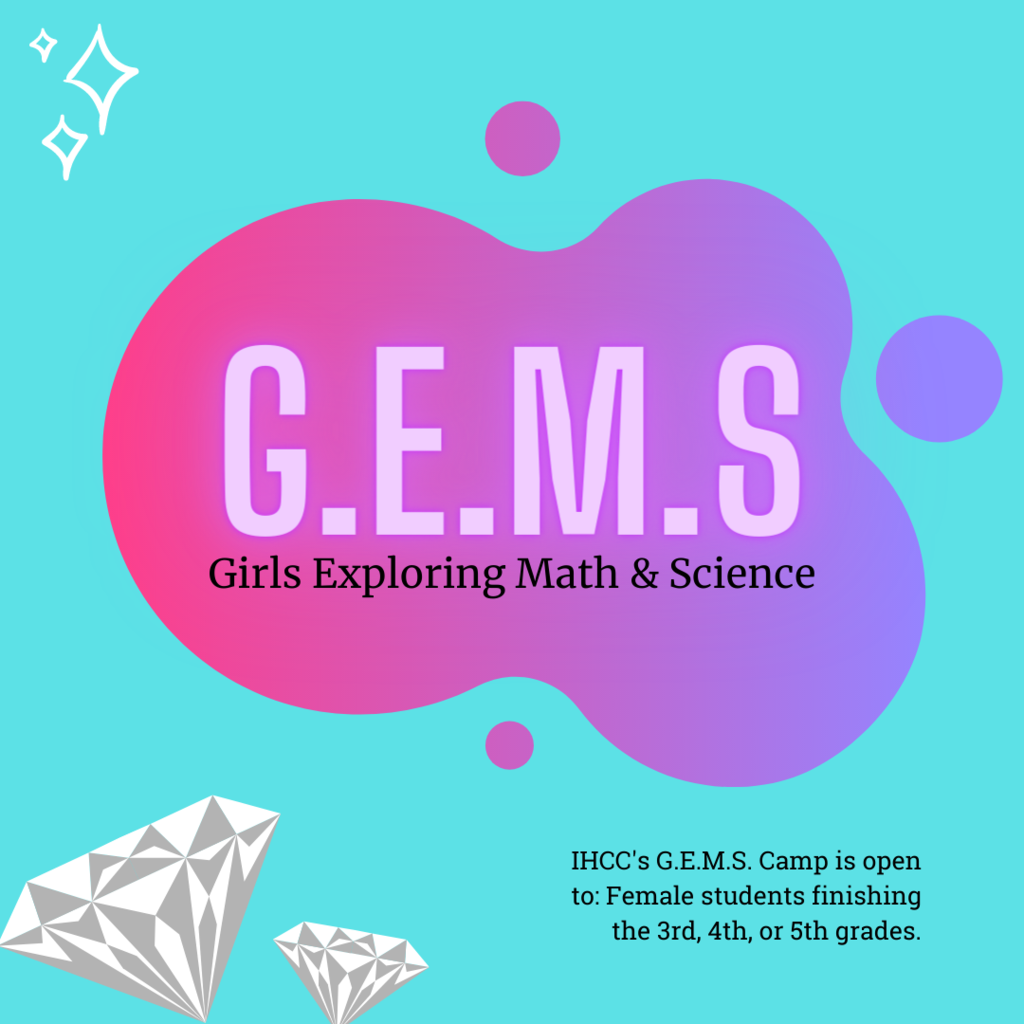 The Kindergarteners finished out their year by hatching baby chicks! This experience was a big hit amongst our students..and most eggs hatched! Thanks to ISU Extension for bringing this experience to life! Video:
https://fb.watch/5NctpFKOql/

Elementary Relay Update Due to several days of rainfall the K-2 stations and 3-6 field events have been cancelled. At this point in time the K-6 races on the track will continue as scheduled if the weather allows. Please continue to check FaceBook or the district's website for any additional weather related updates that may occur tomorrow morning. As a reminder, should we unfortunately have to cancel all events for tomorrow due to weather, there is no scheduled rain date. Providing a rain date is not feasible due to the number of volunteers needed and scheduling. The safety of our students is always our first priority. Link:
https://docs.google.com/document/u/0/d/1_QaebcC7ABAAy7AjL2gxGz47-ZeCdwZGDPBOcgRYhE4/edit

Davis County Schools will have a two-hour delay on Monday, May 24. This is scheduled Professional Development time for staff.