June 6th Middle School baseball game vs Centerville has been moved to Bloomfield. The game will start at 10:00 at Mustang Sports Complex.

Friday, June 2nd the JH Boys Baseball team will travel to Fairfield for games. Please plan accordingly to the following statements from Fairfield Schools. We will NOT have concessions available for the MS games on Friday, June 2. Also, the second exit into town off of Hwy 34 (Hwy 1 south exit) is closed to through traffic. Your team should plan to take the first Fairfield exit off of Hwy 34 eastbound. Drive through town to get to our baseball field. Take Burlington Ave to 4th street. Turn left on 4th street. 4th street will run into a gravel drive that leads back to our baseball and softball fields. Our baseball and softball fields are located behind our Middle School, 404 West Fillmore. Please share with your coaches and spectators so that they can plan accordingly.

Exploring Health Careers Sumer Program at IHCC! This is a great opportunity for students to get an up-close look at a variety of different careers in health care. It is open to current sophomores and juniors, and please note that this is an exploratory program and students will not earn college credit. See flyer and application for more information. Applications must be submitted by June 15. Flyer -
https://5il.co/1vgkk
Application -
https://5il.co/1vgkj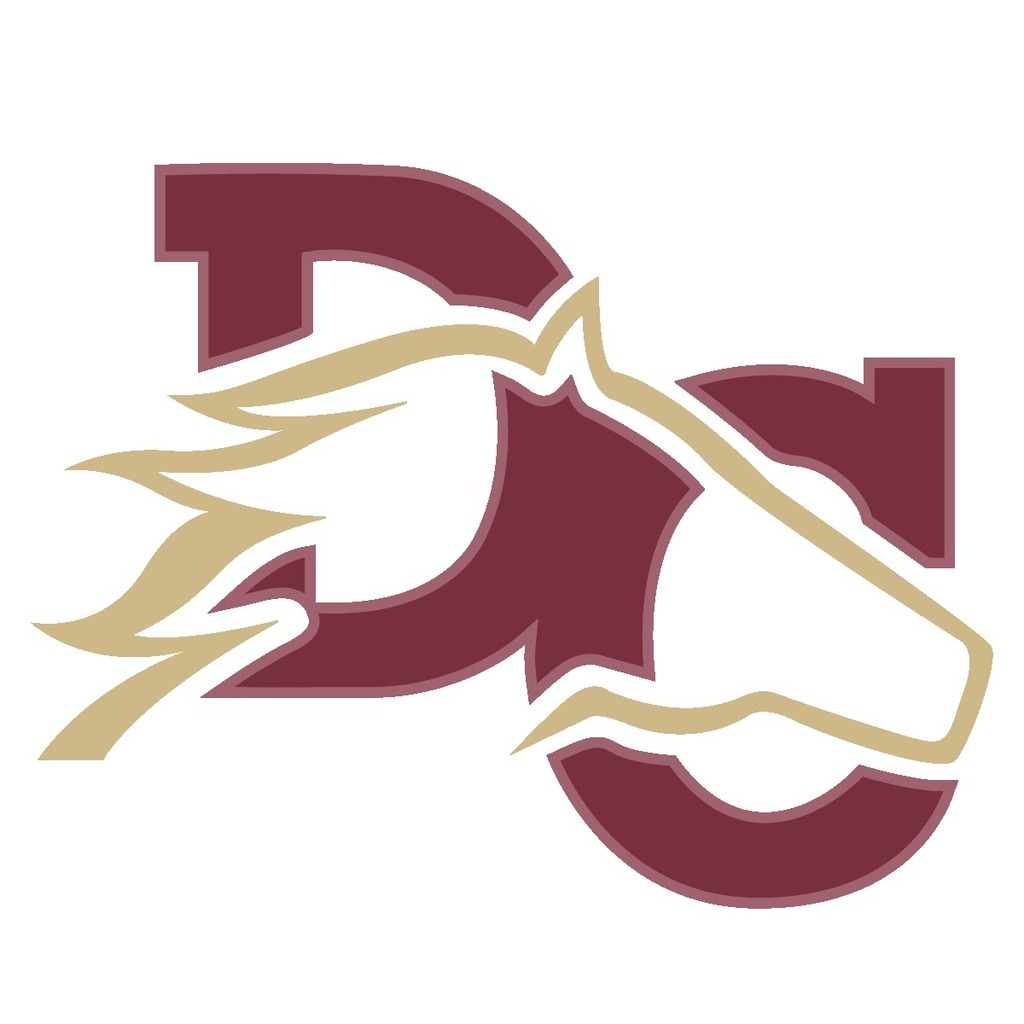 Dear Parents/Guardians: Our 5th thru 8th Grade Field Trip will be on Thursday, May 25th from 10:00 - 2:00. We will be going to the Beach Ottumwa. Students will load buses at the middle school at 9:30am. The concession stand will be open, however only 2 people are working so the lines will be long. Your child will need to bring a sack lunch and snacks. If you would like for the school to provide a sack lunch, please have your student let the school know by Wednesday, May 24th tomorrow. Also, please send a towel and sunscreen with your child. We will be back by the end of the school day. Thank You

It's opening day at the Mustang Sports Complex! The high school baseball team will take on Keokuk in a JV/Varsity contest beginning at 5:30. The boys opened their season last night at Pekin by beating the Panthers 14-4.

State Track Information: If you plan to attend the State Track meet on Thursday through Saturday, you must purchase tickets online. Here is the link.
https://www.iahsaa.org/tickets/
If you are unable to attend, you can watch the free livestream. Here is the link.
https://www.ihssn.com/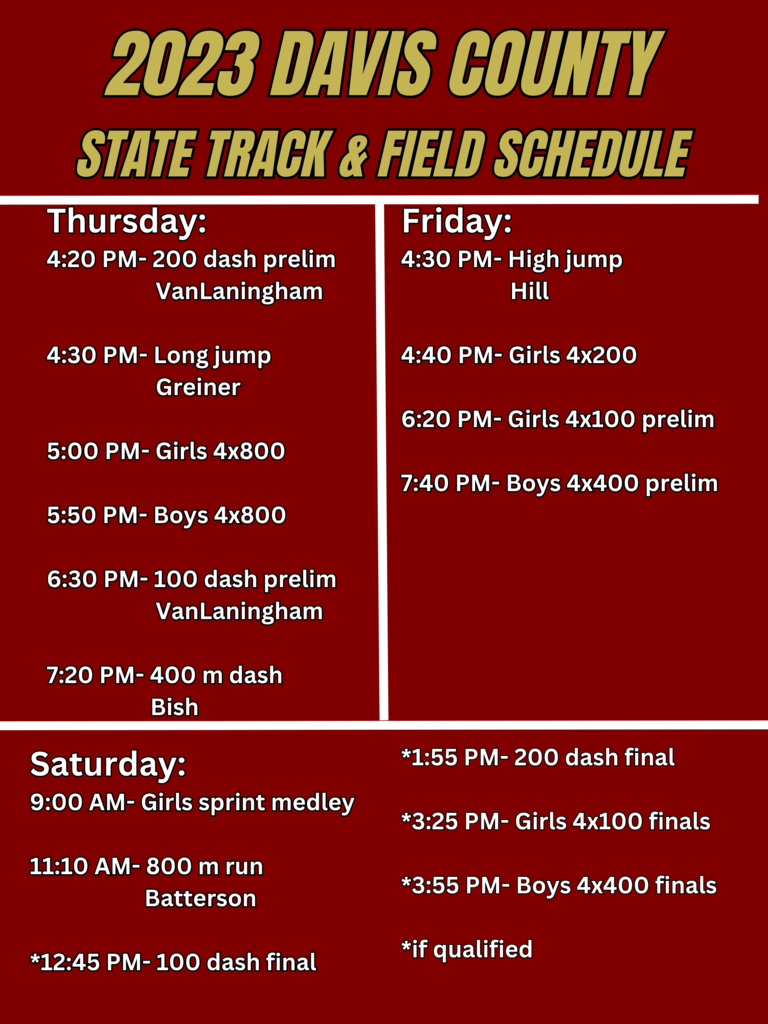 We will have a State Track Meet send-off on Thursday at 10:50 in the cafeteria. We will walk the halls with the band and all meet in the lunchroom for a few words. The team(s) will be dismissed after the send-off to head to Des Moines.

Middle School Baseball Practice: Middle School baseball practice will be after school today from 3:30-5:15 at the high school batting cages in the multi-purpose room above the gym.
The 2nd annual Freshman Industry Tour gave students a chance to tour area businesses within the industry of their interest. We had 6 different tours happening simultaneously. We must give a huge thank you to all of our sponsors, especially our Gold Sponsors, M3 Fabrications, LLC and Wells Hometown Drug!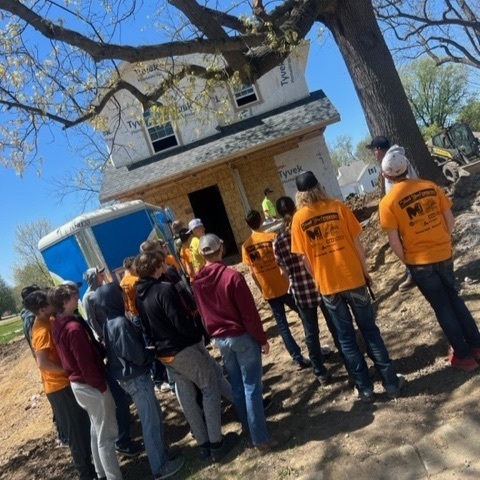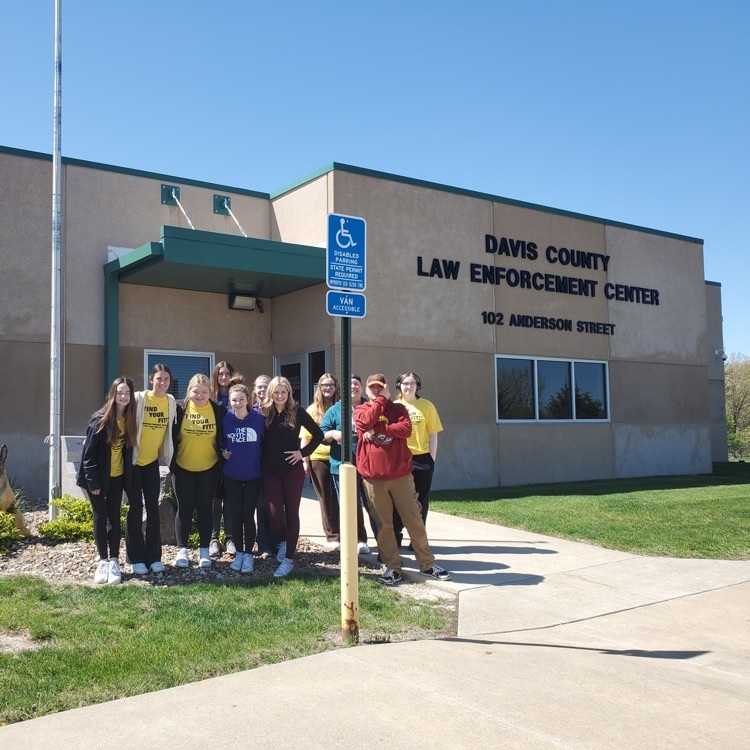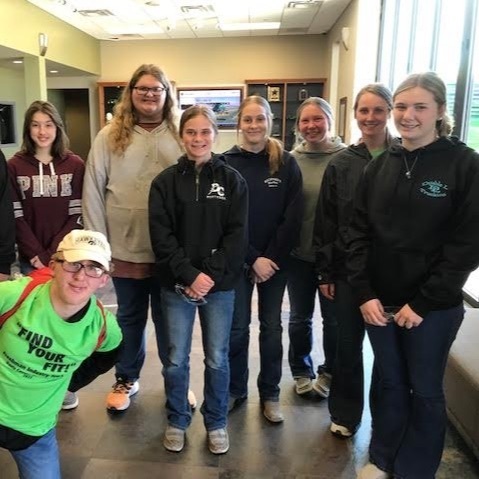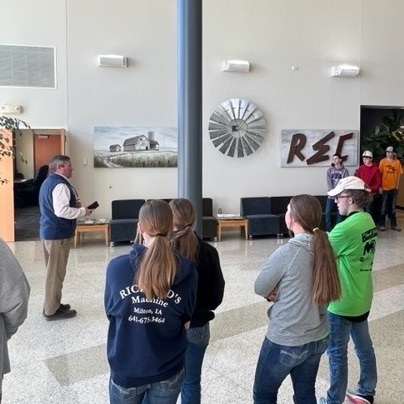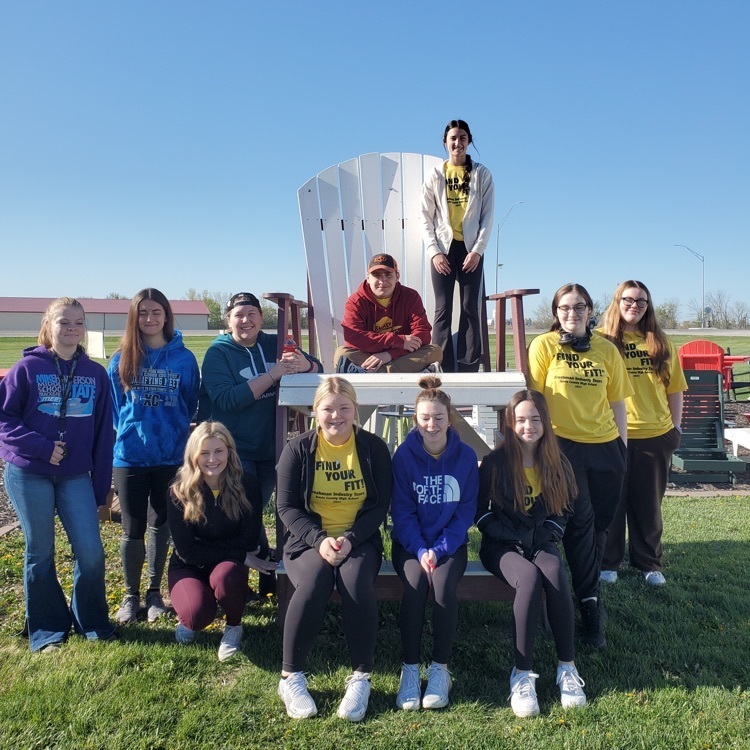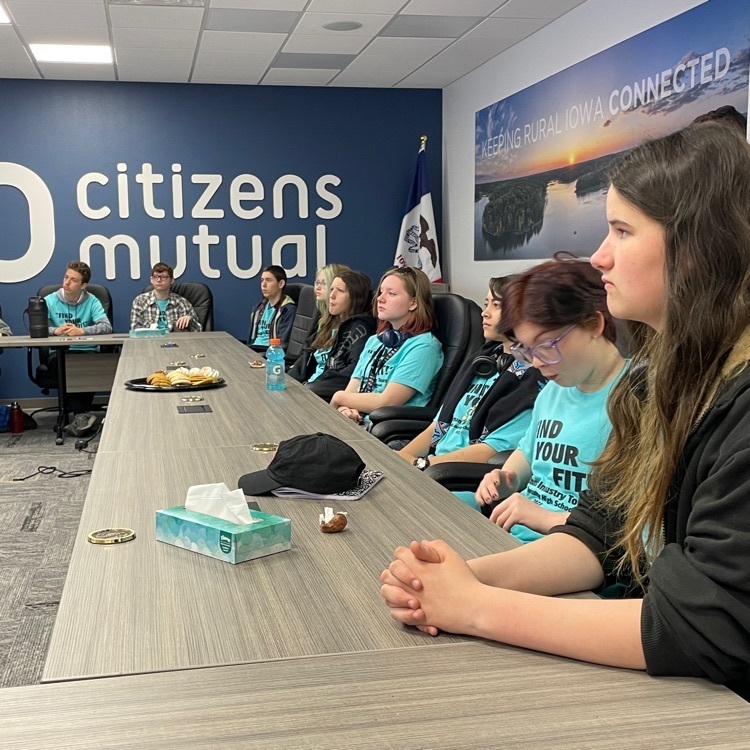 Thank you, board members, for the time and passion you dedicate to our district. We appreciate it!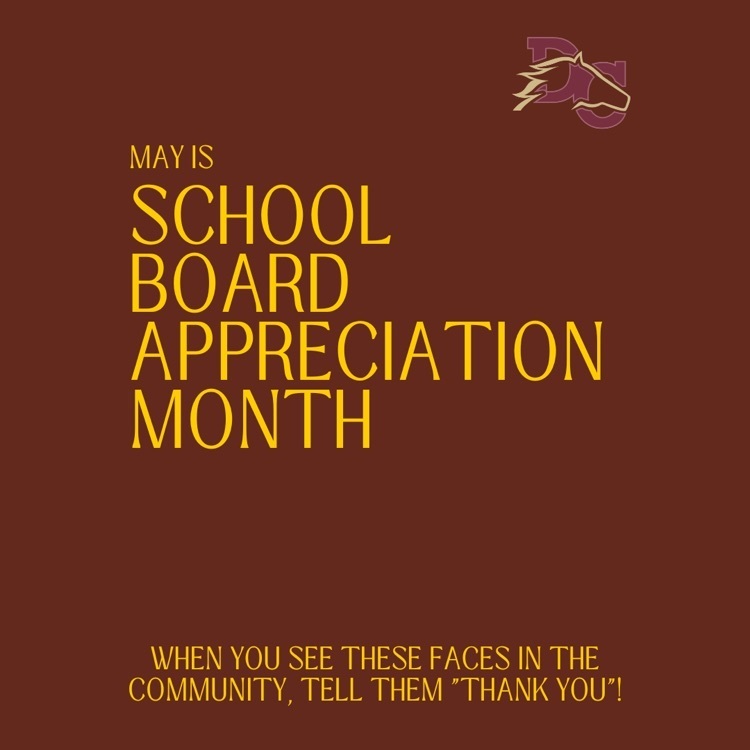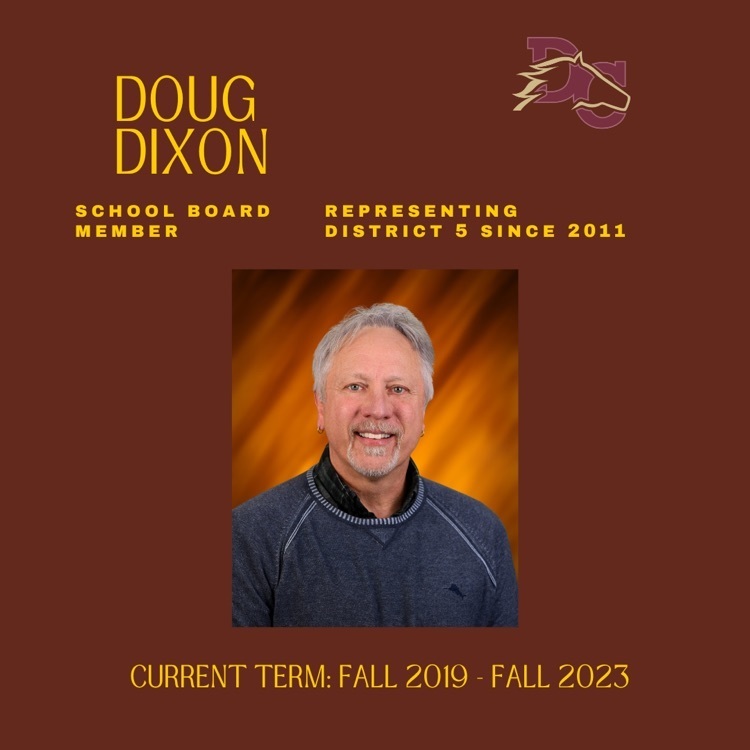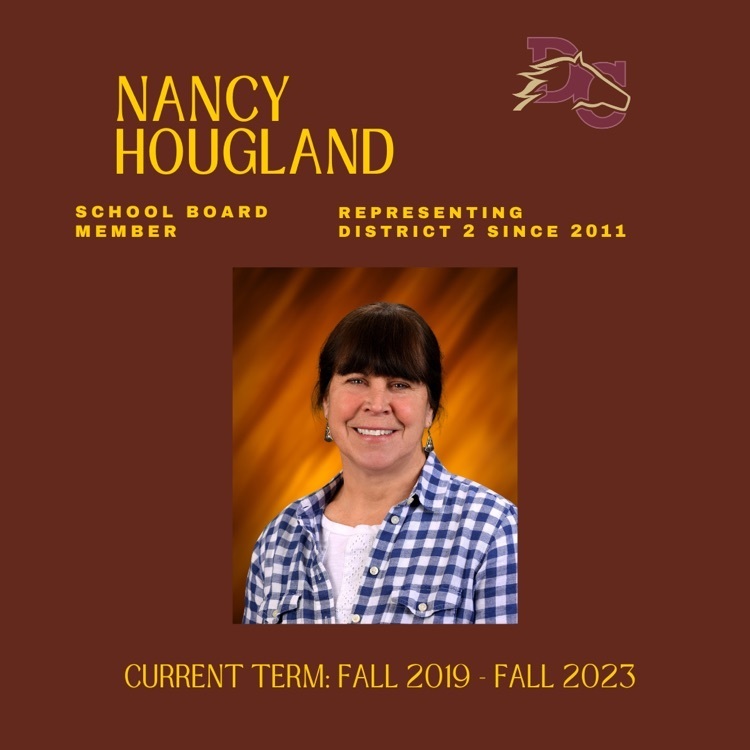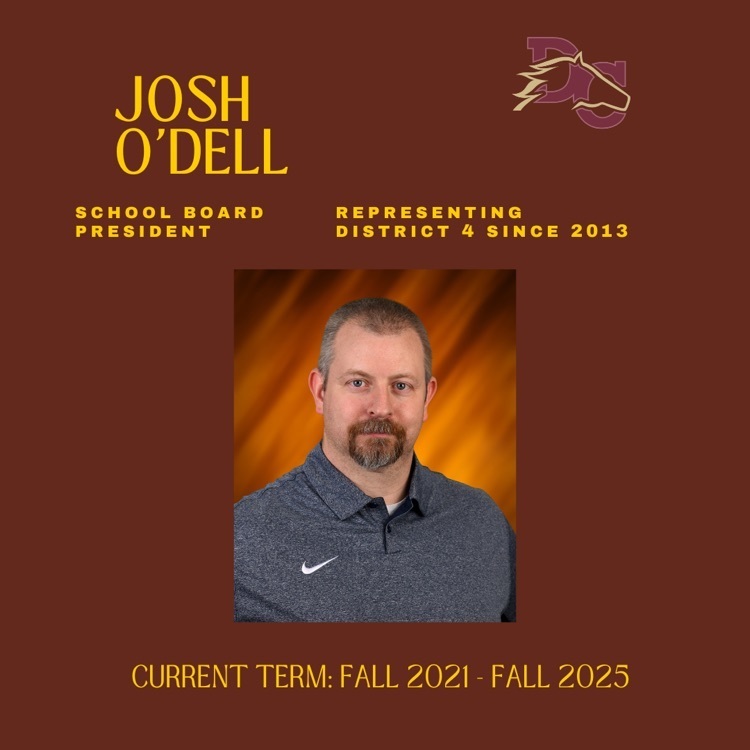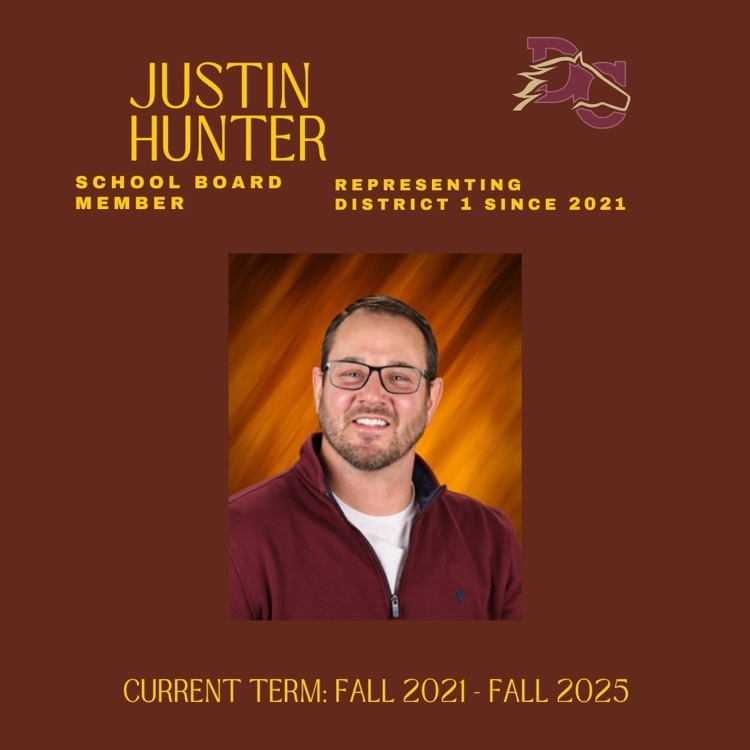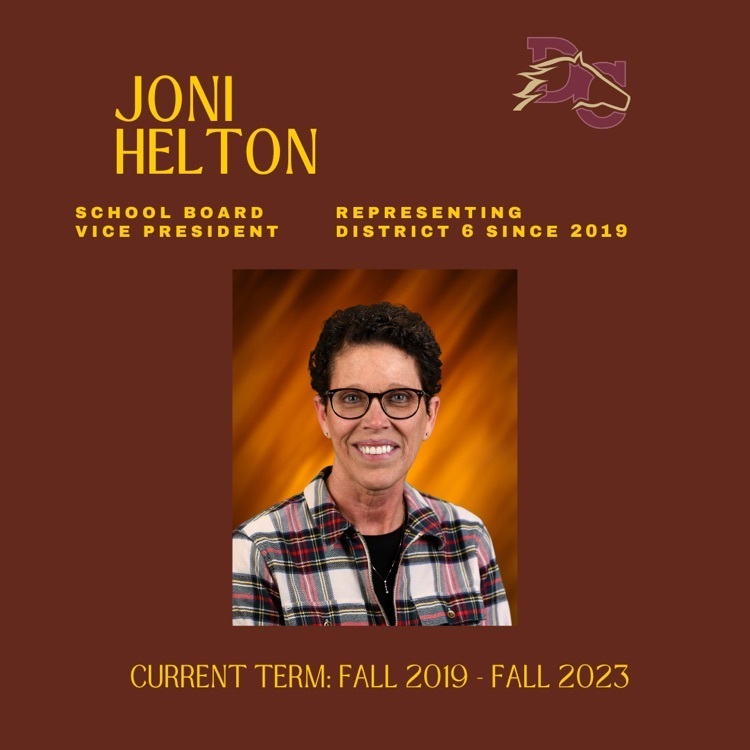 Students participated in DesignDash on Monday in Iowa City. This is an all-day event where students develop a business idea to "solve the world's problems in a day". Toby Hubinette's and Daphne Ikerd's team earned an award for Market Ready. Abby Warning and Olivia Kruser won an award for Understanding the Customer. Andres Sanchez' group designed a business venue that creates a safe space, away from bullies. All-in-all it was a fun day exploring entrepreneurship on the University of Iowa Campus. #mustangsmeanbusiness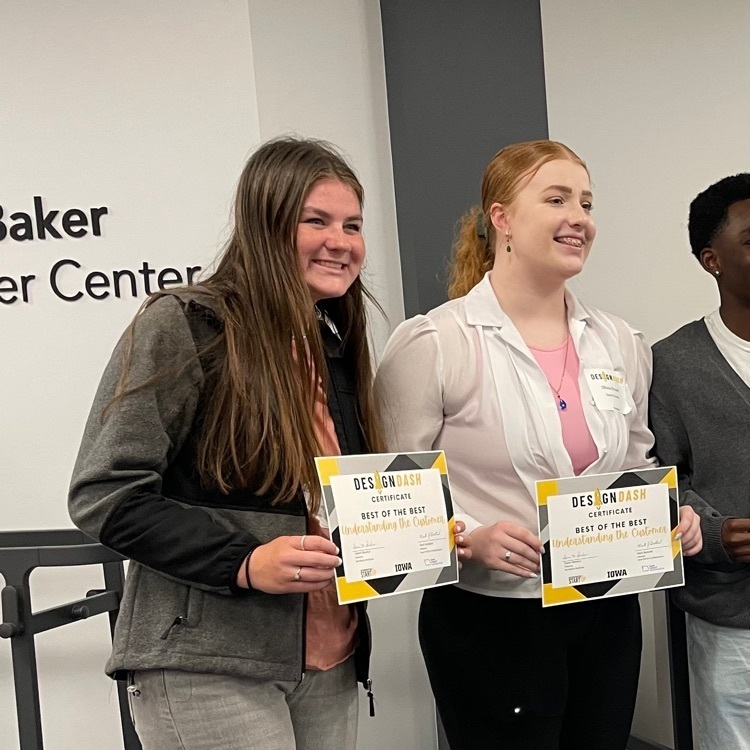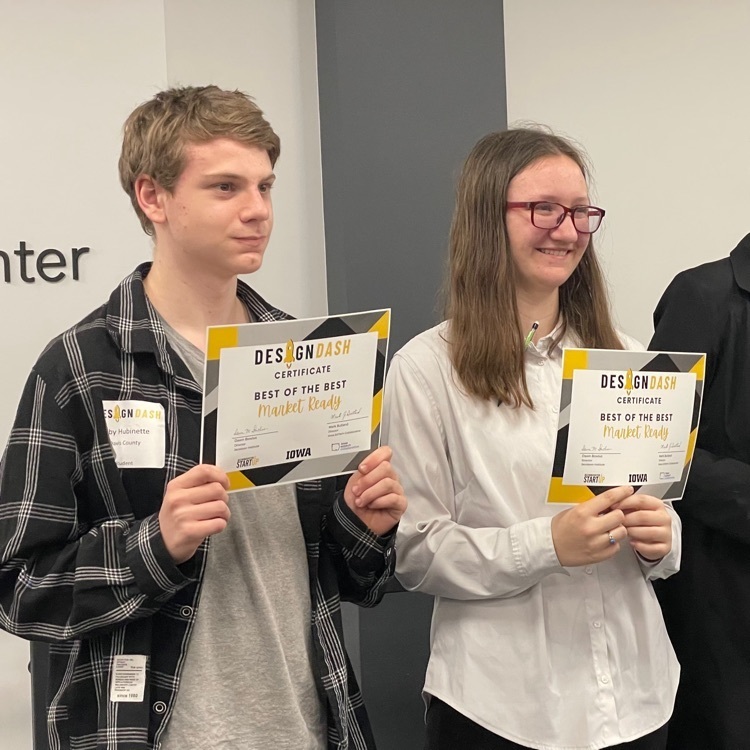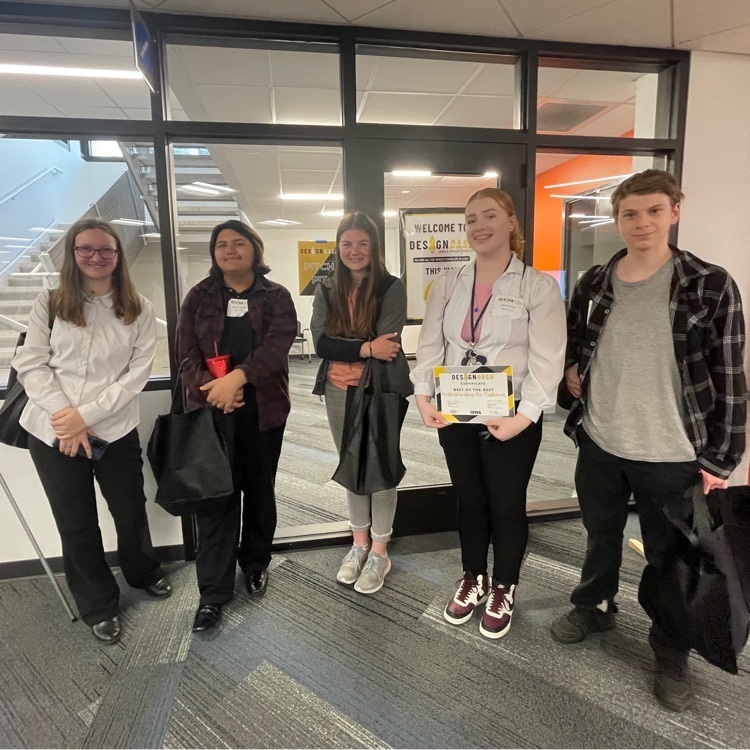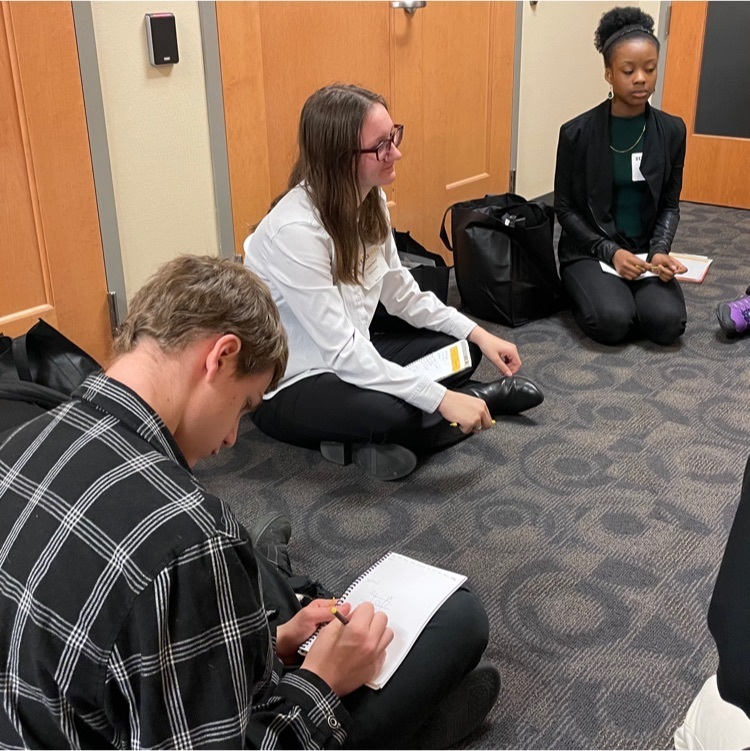 Boys sectionals golf report at Williamsburg: Tucker Bish 85 Jackson Grim 86 Hayden Utt 98 Brady Stuchel 102 Jack Bigsby 103 Michael Early 103 Knoxville 308 Williamsburg 322 Grinnell 329 Davis County 371 Newton 380 Maquoketa 384 South Tama 389 Centerville 399 Sectionals at Williamsburg...top 3 teams advance to districts. So close. Good job Mustangs!

State Track Qualifying Meet Information: Date: Thursday, May 11 Location - Central Decatur High School, Leon, IA Time: Field events start at 4:00 and running events at 4:30. Parking: Spectators can park in one of five areas: We will have Leon PD on site to assist with parking. 1) main student parking area to SE of track 2) NE parking lot (visitor team parking) 3) NW corner of track (this is a small area for handicapped parking) 4) east of track along North Elementary drive. 5) Bus barn parking lot. Live Results:
https://www.aatiming.com/track-meet-results
Tickets: All tickets MUST be purchased on-line. There will be NO cash at the gates.
https://www.iahsaa.org/tickets/

Girls SCC golf meet results: Ella Porter - 108 Steph Wilfawn - 108 Elle Chickering - 110 Elexis Perry - 111 Tatum Newton - 122 Maren Harris - 139 Team Results: 1. Centerville - 386 2. Clarke - 407 3. Albia - 425 4. Knoxville - 428 5. Davis County - 437 6. Chariton - 453 7. Eddyville - 575

Boys SCC golf meet results: Final scores Jackson Grim 79 Brady Stuchel 83 Jack Bigsby 85 Hayden Utt 87 Michael Early 87 Tucker Bish 99 Team scores Knoxville 288 Clarke 309 Albia 320 DC 334 Chariton 349 Centerville 368 EBF 410

Congratulations!

Boys golf Score Report: Emmitt Newton 95 Drew Lindberg 95 Grant Gunter 98 Josh Settles 102 Kinnick Griffiths 115 Charlie Bigsby 127 DC team 390 6th out of 7 Central Lee Varsity Invite

DCMS Showcase of Excellence!!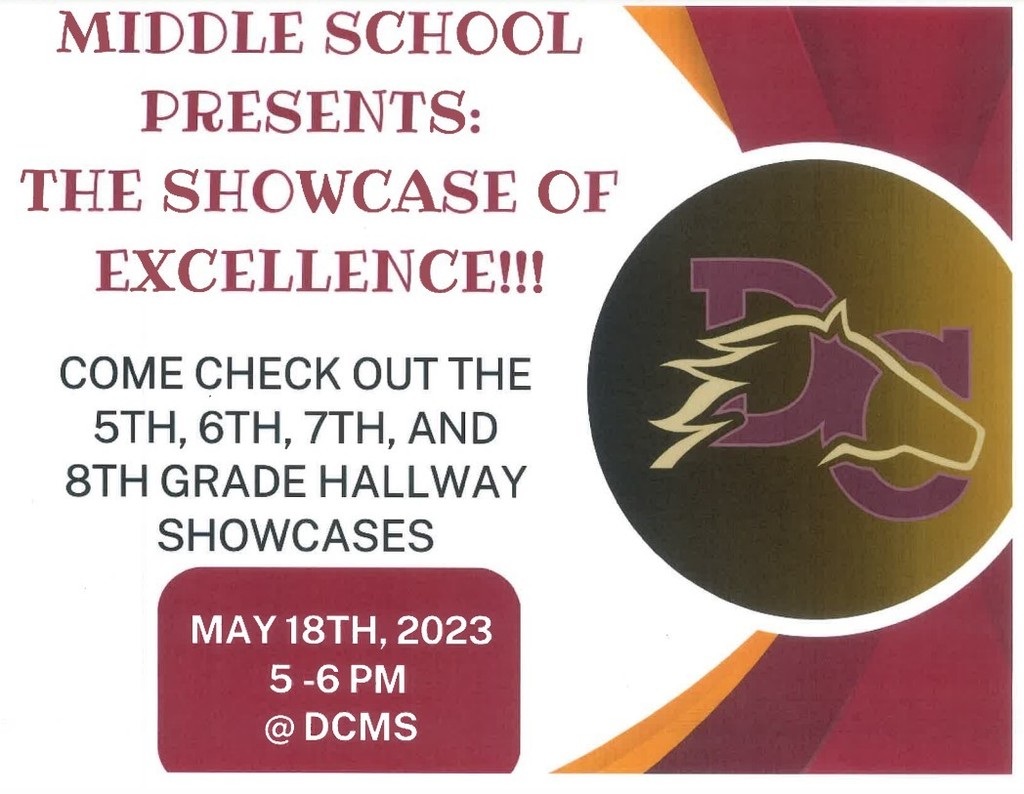 Attention 6th and 7th grade Parents: If your son or daughter plans to play middle school baseball or softball, they MUST have a current physical on file, as well as a signed "Heads Up" concussion form. The school offices have these forms available for you to take to your medical provider or they can be found on the school's website. Practices begin on May 15th. If you have any questions, please contact Tish Johnson or Dave Mason at the high school.
https://www.dcmustangs.com/page/registration-and-open-enrollment

5/2 Score Report: Girls SCC tennis meet @ Knoxville. Look at these Conference Champions!! 1st Davis County 25 2nd Clarke 17 3rd Knoxville 14 4th Albia 11 T5th Centerville 4 T5th Chariton 4 Singles: Maddy Warning 2nd Jada Will 3rd Doubles: Abby Warning/Addy Stuchel 2nd Leah Rudd/Culee Smith 3rd Congratulations Mustang Girls Tennis!