Attention Middle School Parents!!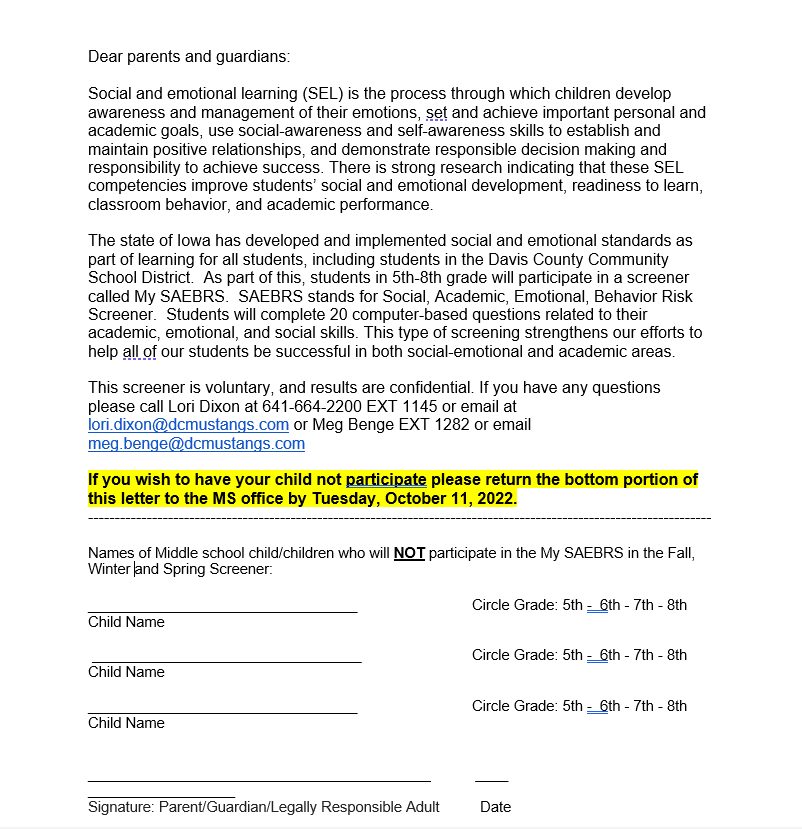 The middle school football game will be played in Keota today. 4:15 start for 8th grade, 7th grade will follow.

Come out tomorrow night and support DCHS/DCMS Band in the Battle of the Bands. Admission is $5 per person. No passes will be accepted. Children under school age are free. Performance is as follows: Davis Co 7-8 Band - 5:30 Schuyler Co - 5:40 Central Lee - 5:55 Mediapolis - 6:10 Cardinal - 6:25 Eddyville-Blakesburg-Fremont - 6:40 Clark Co - 6:55 Fairfield - 7:50 Washington - 8:05 Fort Madison - 8:20 Davis Co High School - 8:35 Awards - 9:05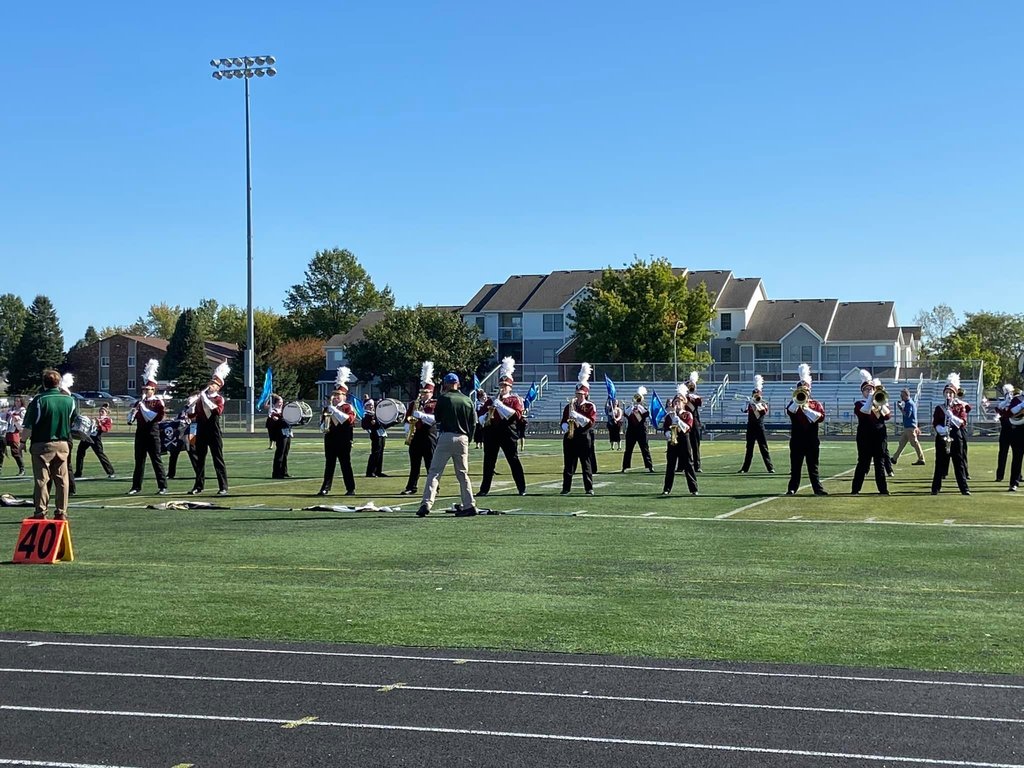 Football Friday: Tonight is the final regular season home football game for our Mustangs as they take on Central Lee. There will be one game tonight starting at 7:00. It's senior night for our football, band, color guard, cheer and cross country students. The ceremony will begin at 6:00. The Rah Rah Rookies will perform at halftime after the band exits the field. Davis County Schools ask that kids sit or stand with their families and be supervised at all times. Kids are not allowed to play on the hill, practice fields or in the street. Playing football or catch on the facility is not allowed. Kids are not allowed to go behind the high school building. Footballs will not be allowed to be brought into the facility. Go Mustangs!
Cross Country Information for today at Chariton: **If you can encourage your parents and fans to carpool, please do so. There is limited parking in the golf course lot. Additional parking is across the street at the DOT building. We will have a couple of golf carts to help shuttle those who need assistance. We are asking busses to park at Southern Iowa Oil (see diagram). Busses can drop off in the parking lot of the course and then go to SIO** **There are restrooms available in the clubhouse, and we also have porta-potties set up in the parking lot** **The club will be selling a hamburger/hotdog meal (chips, drink, cookie included) downstairs in the clubhouse before, during, and after the meet. We are very thankful that Lakeview is allowing us to use their beautiful facility, and we want to help them by buying meals they are preparing for the event. Would you please encourage your parents and kids to help us say thank you by purchasing a meal? They will have seating upstairs and downstairs for you to stay and eat.**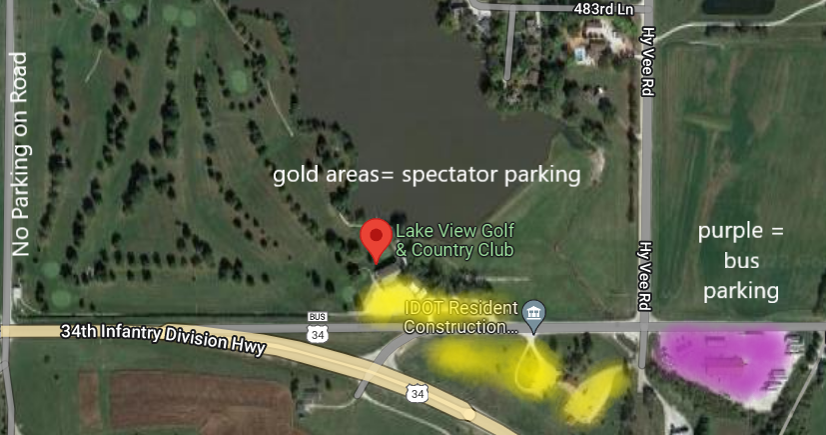 Come support the Davis County Mustangs at tonight's Homecoming Football Game!! The Davis County Cattlemen will be preparing Ribeye sandwhiches, Hamburgers and Hotdogs! Dress warm!!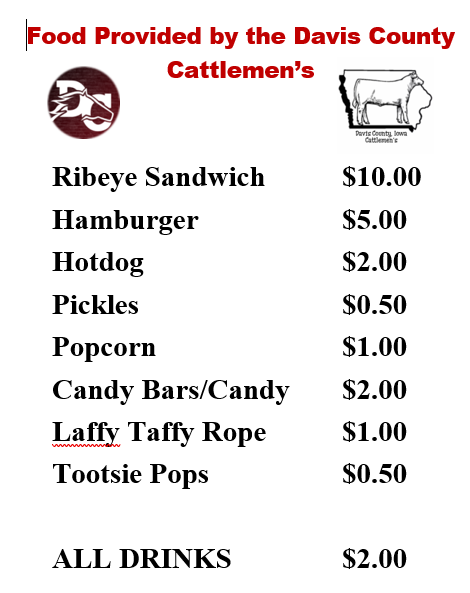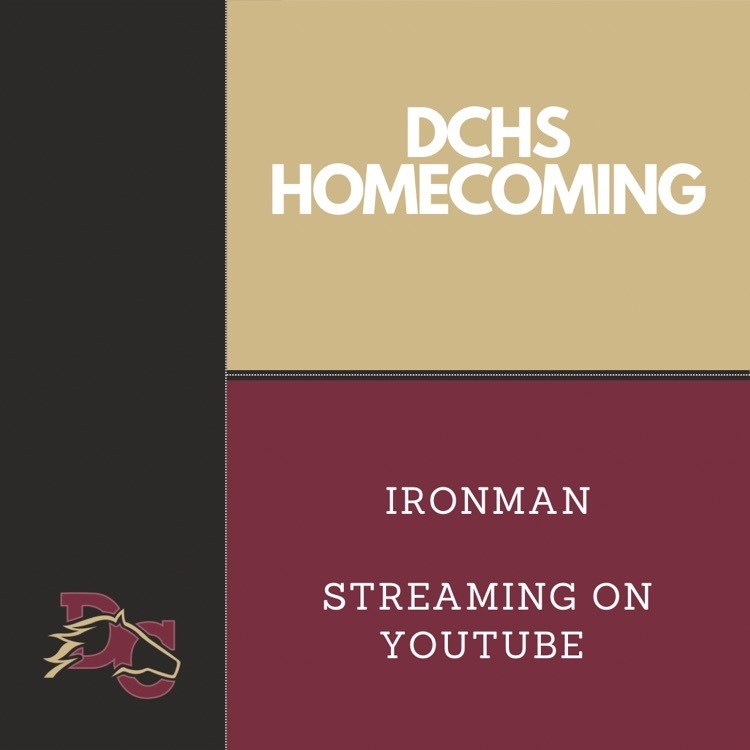 9/20 Mustang Activities: Middle School volleyball vs EBF at the Mutchler Center. 4:15 start. 8th grade and 7th grade will play at the same time. Seating will be limited. The track will be closed for spectators. Spectators are encouraged to bring a lawn chair. High School volleyball travels to EBF to take on the Rockets. 9th & JV matches begin at 5:30. Varsity to follow. There will also be a cross country meet going on at the same time - Please remind community members attending the VB game to be careful not to park on areas marked off by cones/paint. Varsity volleyball will be live-streamed on
https://www.facebook.com/GoSCCTV
The high school homecoming activities schedule for Sunday afternoon and evening have been cancelled due to the potential for severe weather. Stay safe Mustangs.
9/16 Pennant Game: DC vs Centerville. 9th/Soph game @ 5:00. Varsity @ 7:30. Spectators are asked to park in the parking lot East of the gym at Lakeview. Please don't park anywhere that is marked or reserved. Good luck Mustangs!

DCMS 2022 Homecoming Week Dress Up Days!!
9/15 Schedule Update: The middle school football team will travel to Leon to take on Central Decatur. Game time is 4:30. Central Decatur has changed the format due to players not in school today. They will be playing a full "A" game and then 2 extra quarters of a "B" game. DC 8th graders will play 3 quarters and then our 7th graders will play 3 quarters.
9/13 Activity Schedule: The cross country teams run at the Oskaloosa Invite at Edmundson Park. The schedule is as follows: 4:15 - Middle School Girls Middle School Boys Around 5:00 - Varsity Girls Varsity Boys JV Boys JV Girls The middle school volleyball team travels to Albia. They will be playing on 1 net in the MS gym. 4:15 start. 8th grade will play first. The high school volleyball team will also travel to Albia to battle the Lady Dees. Action begins at 5:30 with the 9th and JV matches. Varsity to begin at 7:00. Livestream available at...
https://www.youtube.com/channel/UCdOH3CEwIb9XnS-YXhsoSug
Good Luck Mustangs!
Don't forget to cast your vote regarding VPPEL. Vote at the courthouse today (12th), or at your polling place on Tuesday (13th). There are 3 easy ways to access VPPEL information: View the slideshow presentation:
https://5il.co/1h7qs
Watch the presentation from the school board meeting:
https://tinyurl.com/246hw4s4
Click here for a simple VPPEL Information Flyer:
https://5il.co/1h6r1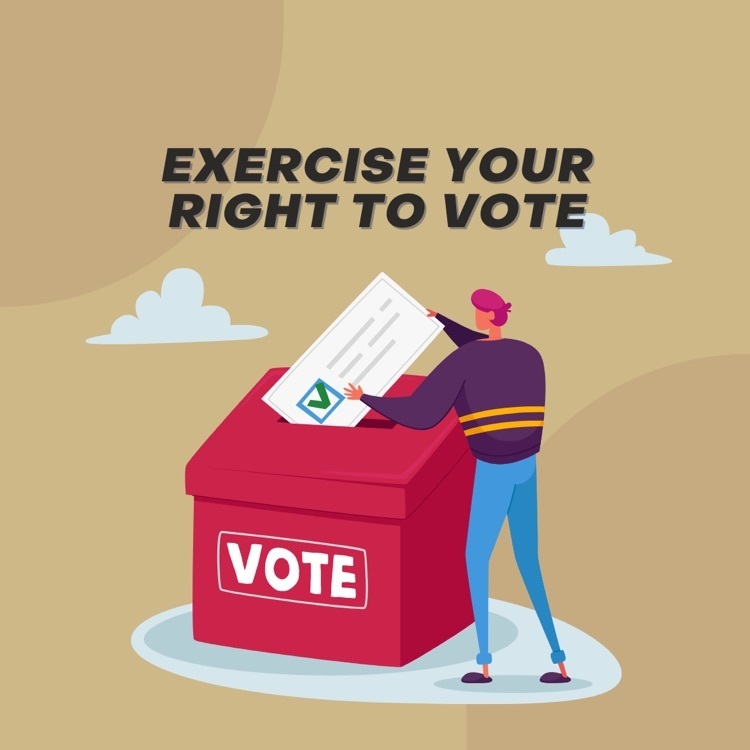 Brooke Mason and Alex Batterson will be hosting an informational meeting on Wednesday, September 14th about upcoming international travel opportunities for high school students. Trips to Scotland and Costa Rica are planned for June 2024, and information about the itineraries, cost, fundraising, etc will be shared on Wednesday at 6pm in the HS Commons. If you cannot attend but would like more information, please reach out to either
brooke.mason@dcmustangs.com
or
alex.batterson@dcmustangs.com
.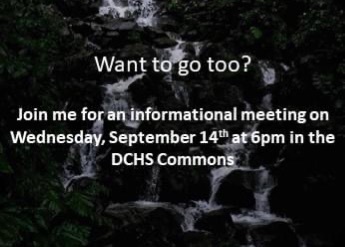 Homecoming week is fast approaching! Please make sure your student is prepared if they are participating in the Homecoming Parade!! Please read and fill out the permission slip below and have it returned to the Middle School office by Monday September 19th!! Students can also pick up one in the Middle School office!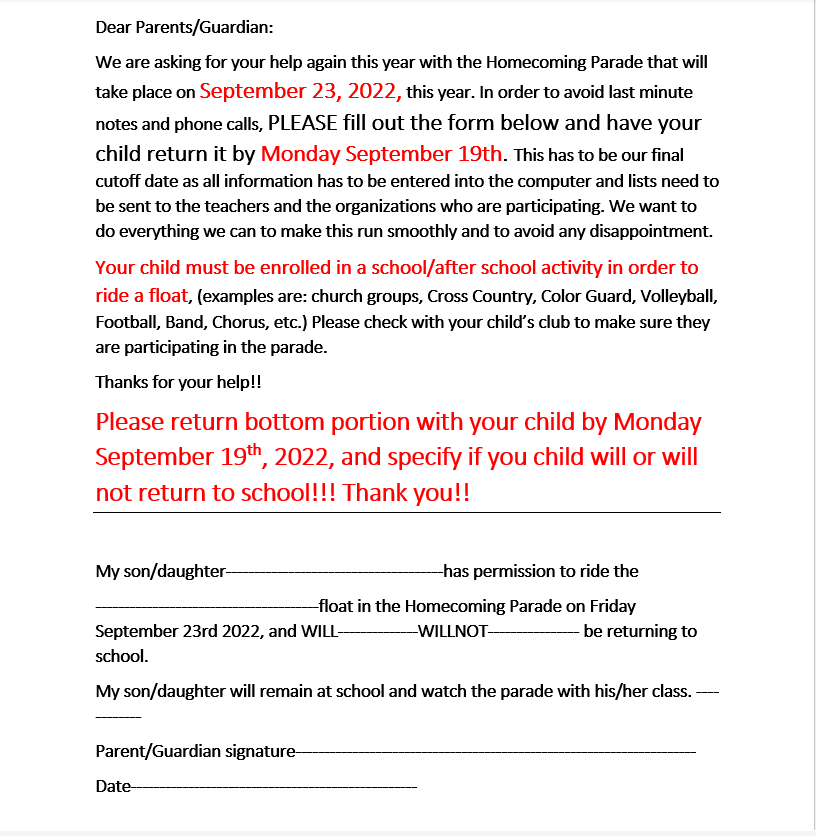 Reminder, there is a town hall meeting tonight! Wednesday, September 7th at 7:00PM in the High School Commons Voted PPEL Information can also be found here: View the slideshow presentation:
https://5il.co/1h7qs
Watch the presentation from the school board meeting:
https://tinyurl.com/246hw4s4
Click here for a simple VPPEL Information Flyer:
https://5il.co/1h6r1
Vote at the courthouse Monday-Friday 8AM-4PM through Monday, September 12 or at polling locations on Tuesday, September 13.