Busy night for the Mustangs. The middle school football team travels to Albia. The 8th grade game begins at 4:15 followed by the 7th. Middle School volleyball will host Van Buren at the Mutchler Center beginning at 4:15. The 7th and 8th grade will play at the same time. Spectators are encouraged to bring a lawn chair as there is limited seating available. The high school cross country team travels to Clarke to participate at East Lake Park located at 2451 Hwy. 34. The girls will run at 4:50 followed by the boys at 5:30. The high school volleyball team will take on Centerville in an SCC showdown at Lakeview Complex beginning at 5:30 with the 9th and JV matches. The varsity contest will be livestreamed on the Go Pitch TV Facebook page.
https://www.facebook.com/ThePitchIA/
Good Luck Mustangs!
October 2nd 9th grade Volleyball @ Fairfield: The following is a transcript from Fairfield Schools. "The Fairfield school board recently voted to mandate masks in our indoor facilities. Therefore, spectators are being mandated to wear masks at our indoor extracurricular events. Our coaches are expected to wear masks while coaching and our players are expected to wear masks when they are not actively participating in the event."
Middle School volleyball will host Chariton this afternoon at the Mutchler Center beginning at 4:15. The 7th and 8th grade will play at the same time. There is limited seating available, spectators are welcome to bring lawn chairs for additional seating. The track will be closed for volleyball viewing.

Join BIO Girls - Davis County! Only 10 participant spots are still available for girls in grades 2-6, they start next Monday, September 27th! To register and for more information on BIO Girls:
www.biogirls.org/register
Like and Follow them on Facebook: BIO Girls - Davis County, IA The Davis County program important dates: Start Date: 09/27/2021 Meeting Day: Mondays Meeting Time: 4:00-5:30pm 5K Date: 12/04/2021 End Date: 12/06/2021 BIO Girls is a self-esteem building program with 12 sessions; combining life-skills, devotions, small group mentoring and non-competitive physical activity (mostly walking, jogging, running). Questions, contact Angie Will at:
angie@biogirls.org
Congratulations to the Mustang boys cross country team for winning the PCM Invite! The girls took home 2nd place. The Mustang volleyball team lost a heartbreaker to a tough EBF team in 5 sets. Way to compete Mustangs.
ACTIVITIES FOR TODAY: The middle school volleyball team will host EBF at the Mutchler Center beginning at 4:15. The 7th and 8th grade will play at the same time on two separate nets. The high school cross country team will travel to PCM for their meet at Gateway Golf Course. The HS girls will run at 5:20 followed by the HS boys at 5:50. Come on down to the Mustang Field House to cheer on the SCC leading Mustang Volleyball team as they take on rival EBF in a crucial battle for the conference title. Action begins at 5:00 with the 9th grade match. Good Luck Mustangs!
Here is the format for middle school volleyball today at Howar Junior High in Centerville. 8th will play at 4:15-5:30 (75min) followed by 7th playing at 5:45-7pm (75min)
Today's Cross Country meet at PCM has been postponed due to the weather. It has been rescheduled for Tuesday, 9/21.
Mustangs protect the pennant. They beat Centerville 42-21. Way to go Mustangs!
The Mustang cross country team competed at PCM this evening. In a very strong field of teams the girls finished in 4th and the boys placed 6th. The Mustang volleyball team continues its dominance by sweeping Albia in a SCC battle. Great night to be a MUSTANG!
MUSTANG ACTIVITIES FOR 9/14: MS volleyball will travel to Albia. Games begin at 4:15 at Albia high school. 7th and 8th grade will play at the same time on 2 separate nets. MS football will host Central Decatur. 8th grade will play first beginning at 4:30. The HS volleyball team hosts Albia in SCC action. The 9th grade game begins at 5:00, followed by JV and varsity. Good Luck to ALL Mustangs!
The JV football game @ Cardinal scheduled for today, September 13th has been cancelled.
Football Friday: Cardinal beats Davis County 42-38 in a thriller.
Homecoming festivities are around the corner! Middle Schoolers will be decorating the lockers.
Make sure to check out the coloring contest at the Pulaski Corn Show this weekend! Third and fifth graders participated in this event in Mrs. Byrd's art class. All students' coloring sheets will be displayed starting today in the Art Hall in the Pulaski park. Judging will take place tomorrow morning with cash prizes given. Each student chose from coloring sheets that honored job professions such as: Fire Fighter, Farmer, Teacher, Nurse, and Law Enforcement. Students have done a great job and are excited to share their work!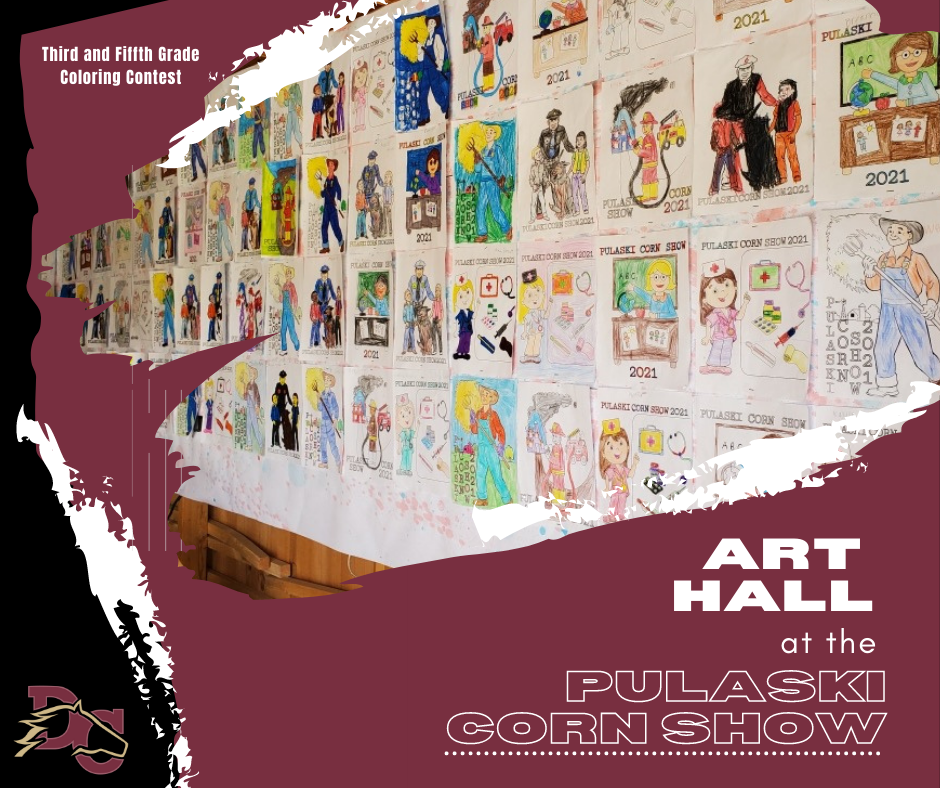 Be sure to attend the Pulaski Corn Show - DCMS Band will be playing!