FOOTBALL FRIDAY! If you are attending the football game at Cardinal tonight, here is some information from Cardinal Schools. * Two gates for fans - one at the elementary, one at HS parking lot. * Do not back up to the fence - Those spots are reserved for Cardinal fans. * Handicap parking available close to fence. *9/11 Tribute before game.
Congratulations to the Mustang Cross Country team for winning both the girls and boys team title at Lake Fisher. Macy Hill finished in 2nd and Carson Shively won the boys race. Great job Mustangs!
Come on out to Lake Fisher and support our Mustang Cross Country runners this afternoon as we host the Lake Fisher Invitational. Action begins at 4:20 with a youth fun run. Middle school and high school will follow. $5 per vehicle will be charged. The middle school football team hosts Putnam County this afternoon beginning at 4:30. This game will also be live streamed on the Davis County Mustangs YouTube channel. Good Luck Mustangs!
Middle School Football vs Putnam County on Thursday, September 9th will be one game only with an extra quarter of play. This is due to low numbers of players for Putnam County. Our DC coaches will try to get all our Mustang players into the game. Have fun kids!

Dear Davis County, Under new IDPH guidance, Davis County CSD will no longer be sending notifications to possible contacts of a COVID-19 case at school. Just as with all illnesses there is risk of possible exposure any day we are around others. We encourage families and staff to keep this in mind and understand the importance of staying home if you have any symptoms of illness. Sincerely, Dan Maeder, Superintendent
https://5il.co/ymxh
Information for 5/6 grade volleyball is now available. You can also check Davis County Volleyball's Facebook page for information, as well as the Middle School office. Letter to 5/6 Parents:
https://5il.co/ymmn
5/6 Volleyball Registration: Form:
https://5il.co/ymmm
Mustang Volleyball goes down 2 games to none and comes back to beat Knoxville in 5!! And the student section storms the court!! Way to go Mustang Volleyball!!!
Cross Country Update from Van Buren: Girls were second by 2 points to Fairfield. Boys were 2nd as well. Macy Hill meet champion. Carson Shively runner up. Good job Mustangs!
If you are unable to attend the Volleyball games at Knoxville tonight, here is the live-stream link. Go Mustangs!
https://youtu.be/1ZBU-e2ka7Y
Mustang Volleyball sweeps Chariton! Awesome student attendance!! Mustang cross country competed in Williamsburg. Girls finished in 4th. Boys finished in 7th.
FROM THE ACTIVITIES OFFICE: The high school volleyball teams will host Chariton tonight beginning at 5:00 with the freshman game. JV and Varsity will follow. Games will be live-streamed on the Davis County Mustang YouTube Channel. Go Mustangs!

2021-2022 Adult Activity Passes are now on sale. You can purchase your pass at any of the school's main offices or at any home game you attend. Adult Single Pass $75 Adult Couples Pass $140 Adult Senior Pass (62+) $25 It is not too late to purchase an activity pass for your student, these can be purchased in their respective buildings. KDG-6th Grade $20 7th-12th Grade $30
FROM THE ACTIVITIES OFFICE: The Mustang Football team kicks off their season tonight at PCM in Monroe. Action begins with the 9th/Sophomore game at 4:45. The Varsity game will start at 7:30. Good Luck Mustangs!
Congratulations to the Mustang varsity volleyball team for starting their season 2-0. They sweep Mt. Pleasant and Ottumwa! Also a big congratulations to Head Coach Brooke Mason for notching her 100th career win! Way to go Mustangs!
FROM THE ACTIVITIES OFFICE: Fall sports begin tonight for the Mustangs with the high school volleyball team traveling to Ottumwa to take on Mt. Pleasant and Ottumwa at Evans Middle School. Action begins at 4:30 with the freshman and JV games, varsity will follow around 6:00. Good Luck Ladies!
FROM THE ACTIVITIES OFFICE: Congratulations to Davis County Junior, Chloe Fetcho for being selected to the Iowa Girls' High School Student-Athlete Advisory Committee. The Student-Athlete Advisory Committee is a 14 member committee comprised of female student-athletes representing various sized schools across Iowa. Chloe will serve as an ambassador at various state tournaments throughout the school year. Chloe is involved in choir, volleyball, and track. She is the daughter of Rich and Katie Fetcho. Congratulations Chloe!!

DC Students & Parents, There are two lingering questions out there that I'd like to address. Q1 - Will parents be notified if there is a COVID case or exposure at school? A1 - Yes. Parents will be notified if there is an exposure at school that your child may have been in contact with. Parents will be notified through the email that was provided to the school during registration. A sample parent letter is attached to this message. Q2 - What will be the school's response? Will students be quarantined or other protocols followed? A2 - The school will be informing parents if their child may have been in close contact. Parents will be responsible for monitoring symptoms at home and the school will do the same while children are at school. We will be following guidelines provided by Iowa Department of Public Health which are summarized in the Isolation or Quarantine Best Practice Guidelines also attached to this message. The district will continue to encourage students who are sick or showing symptoms to stay home and follow the guidance provided. I hope this clears up some questions or confusion that may be out there. Please do not hesitate to contact your child's attendance center or the central office if you have other questions. Thank you, Dan Maeder, Superintendent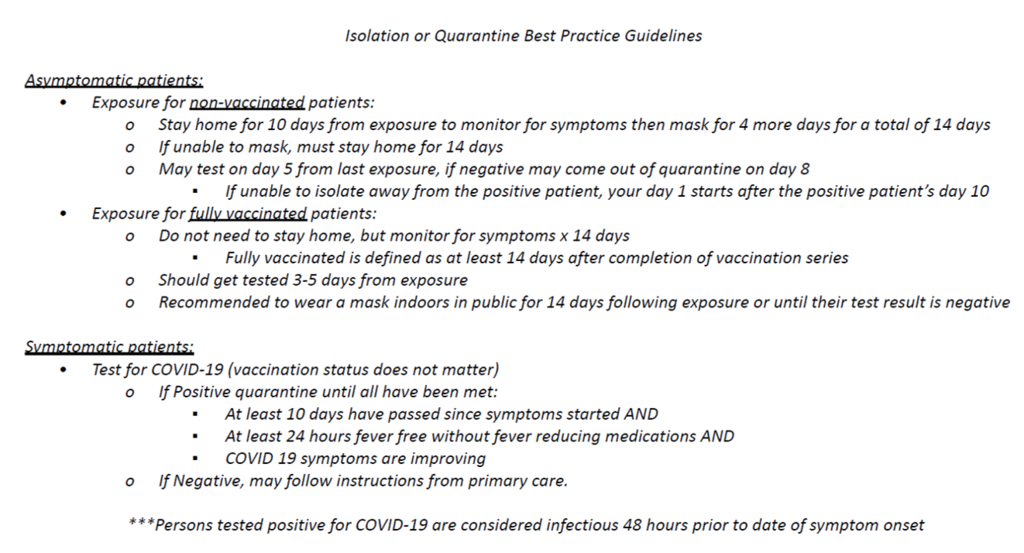 Davis County Students & Parents, On behalf of our Davis County CSD faculty and staff, Welcome to the 2021-22 school year! We are excited meet all our new students and families for the first time and look forward to seeing all of you who are returning. We are also excited to introduce a few new DC faculty and staff members joining the team. Please help them feel welcome as you meet them here at school or out in the community. As we begin what we anticipate being a "normal" start to the school year, I want to be sure everyone knows how the district intends to mitigate the health risks brought on by COVID-19 and other viruses and communicable illness we may experience here at school. Here are some basic guidelines that we will follow along with links to resources we will use to make health related decisions this school year. Davis County Health Mitigation Guidance: • Davis County will continue to follow guidance from Dept. of Education and Iowa Department of Public Health (See IDPH COVID 19 School Update) • DC School Health Service Management and Protocols • Continue cleaning protocols and social distancing to the best of our ability • Masks at school will not be mandated but allowed and available. All students, staff, and guests will be treated with dignity and respect whether wearing or choosing not to wear a mask. • Masks will be encouraged to be worn on buses as per CDC guidelines, but not mandated as per Iowa Law If you are concerned about sending your child to school in person, online education remains an option for all DC students who enroll at beginning of school year/semester. Please contact your building secretary as soon as possible if you would like to consider this option. I've been extremely proud to be part of a system and community that is supportive of and respects the rights and choices of others. We know that challenges will always be ahead of us. How we handle those challenges and how we treat each other during crisis defines our character. Let's make Davis County a model of character for others to follow. Go Mustangs! Dan Maeder, Superintendent

Great news families! Davis County Schools is able to continue to provide breakfast and lunch free of charge to any child 18 & under. Online students and children (18 & under), please use this link to sign up for delivery! (Students who eat at school do not need to sign up.)
https://forms.gle/qeZ1c7HU81NfTKzZ6

5th - 8th grade students are invited to a Back to School Bash at the Mutchler Center on August 20 from 5:00 - 6:30PM. Cost is $5.00. Refreshments will be available for a small donation. Wear neon or white attire to stand out in the glow-in-the-dark dance!